"I feel no need for food and water," states Prahlad Jani, a seventy-six year old Indian ascetic who lives in a cave near the Ambaji temple in the state of Gujarat. Mr. Jani claims that he has not had food or fluids to drink for the last sixty-five years. At the age of seven years he left home in search of spiritual unfoldment. Jani states that at the age of eleven years he was blessed by a goddess.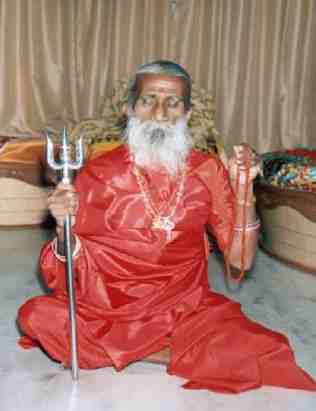 He claims that since that blessing he has gained his sustenance from nectar that filters down through a hole in his palate, and has not passed urine or stools since then. Mr. Jani explained, "I get the elixir of life from the hole in my palate, which enables me to go without food and water." Almost daily Mr. Jani enters a state of Samadhi characterized by extreme bliss and enormous light and strength. He says that he has never experienced medical problems. He says that he did not speak for a period of forty-five years.
In November 2003, after over a year of coaxing, Prahlad Jani was finally persuaded to participate in a scientific research study. A medical research team of twenty-one specialists, headed by Dr. Sudhir V. Shah, had Prahlad Jani under twenty-four hours of observation for ten days at the Sterling Hospital in Ahmedabad. The team's research expertise included cardiology, neurology, urology, gastroenterology, ophthalmology, renal function, pulmonary function, ENT analysis, psychiatry, general medicine, and other specialities.
A series of investigations were done on Mr. Jani in each of these areas according to a pre-determined protocol, and additional tests were carried out as per suggestions of the team. At the conclusion of their intensive investigations the team's doctors were left with an unexplained mystery, unable to disprove Prahlad Jani claims.
[Click here to read full article]
Follow @AsiaParanormal